I had a group of machines for a pilot project just stop launching Power View.
Very frustrating – and then my machine stopped working.
I finally tracked down the problem – and hopefully this helps others.
Using the Registry Editor – RegEdit – browse to
Computer\HKEY_CURRENT_USER\Software\Microsoft\Office\15.0\User Settings
You should see a registry key PowerViewExcelAddin
Delete the key.
Now open Excel – create a new blank workbook.
On the Insert tab you should see PowerView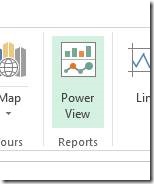 Click on PowerView – Excel will say you need to enable Power View – click on Enable.
The Power View and all of the BI should work now.