Monday – the start of the fourth full week of isolation and work from home. At some point there are two items of housekeeping I need to do:
re-order these posts so they read in reverse chronological order (newest at the top, oldest at the bottom)
re-work the WA DOH model that I have, to use PowerBI and also align the data boundaries to the new midnight cutoffs coming from WA DOH.
WA DOH data still has gaps – I think the new visualisation and reporting will make this more consistent – but there are a few days of holes: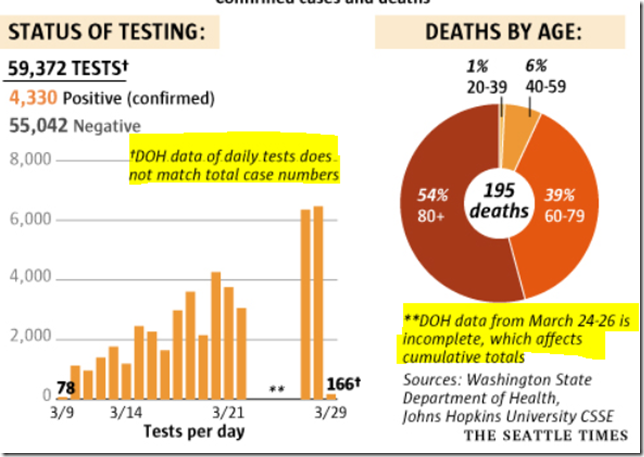 Kids are still home. There are pitchfork mobs ready for Issaquah School District – there are some awful folk on social media. 1284 deaths in the UK.
Local and global coverage for future reference.
| | | | |
| --- | --- | --- | --- |
| | Seattle Times | BBC | Guardian |
| 30 March | here | here | here |
| 31 March | here | here | here |
| 1 April | here | here | here |
| 2 April | here | here | here |
| 3 April | here | here | here |
| 4 April | here | here | here |
| 5 April | here | here | here |