Thursday – US Gov starts to provide N95 masks and lateral flow tests; good, but tbh three+ months late. Looking forward, there is a distinct "post omicron" sense that masks, restrictions and testing are going to go away, and Covid just becomes endemic. I predict a quiet summer and another combined "flu/covid" winter. Boosters and flu shots delivered in one.
Wednesday – We managed to get lateral flow tests from Target (a miracle!) negative on both. PCR tests done yesterday, waiting for those results.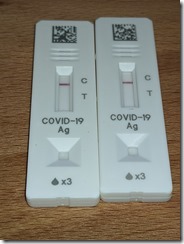 Tuesday – 500k new cases in France, Italy 230k cases. UK on the down side of the curve. More Covid exposure in the house; and similar "numb nose, strange smell" symptoms. PCR test done.
Monday – "majority of Seattle areas 200k unvaccinated, will not get the vaccine" meaning variants, breakouts and one of the mutations will kill thousands.
This time last year – two years sine the first COVID case in Washington State. Mutations and concern about breakouts. Vaccinations ramping up. The Seattle Times link naming goes around again – adding -2 to urls.
https://www.theguardian.com/world/series/coronavirus-live