Sunday – Fauci predicts 100-200k deaths in US. WA DOH moved to PowerBI – looks to be developed by Microsoft IT – which is nice.
Saturday – "Best case, 20k deaths" in UK. 50% survival in ICU however. Closed borders, Brexit – no one to pick fruit and veg. Military field hospitals being built in Seattle.
Will need to head out for groceries later. Ended up travelling to Vashon Island to get car license plates done. Empty ferry and curbside pickup for food.
Friday – Boris has the COVID19. Took the car in to the dealership. Was told a story of "police checkpoints" in Issaquah. Mailed the mayor – it's obviously complete BS. US at 97k cases and skyrocketing. 969 deaths today in Italy. $2T stimulus coming.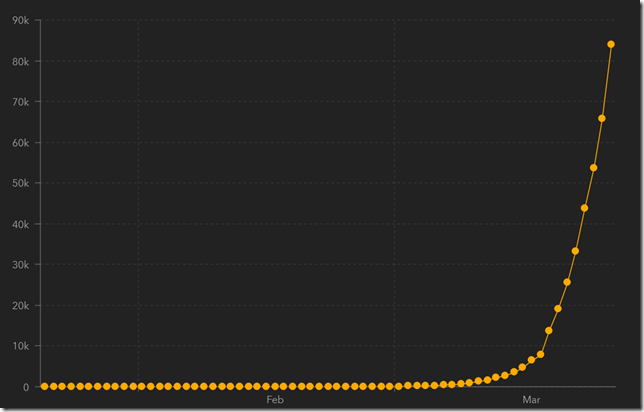 Thursday – the scale of pandemic in the US is becoming clear. Visually seeing the spread, county by county is chilling. NY state has 31k cases, 285 deaths. There is no PPE. 3.3 million file unemployment.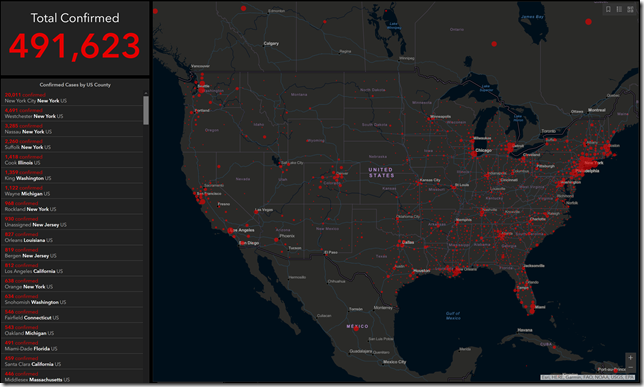 WA DOH finally got test data out for today. Gaps in total tests for Tue/Wed – which doesn't help the trend analysis.
ExCeL exhibition center in London being fitted out as a 4000 bed hospital "NHS Hospital Nightingale" – NEC next. Tomorrow is three weeks of enforced working from home. NHS tributes are moving.
Wednesday – Prince Charles tests positive. Home testing kits for the UK. JHU dashboard! 100k cases in two days (compare below with above). $2T stimulus passing.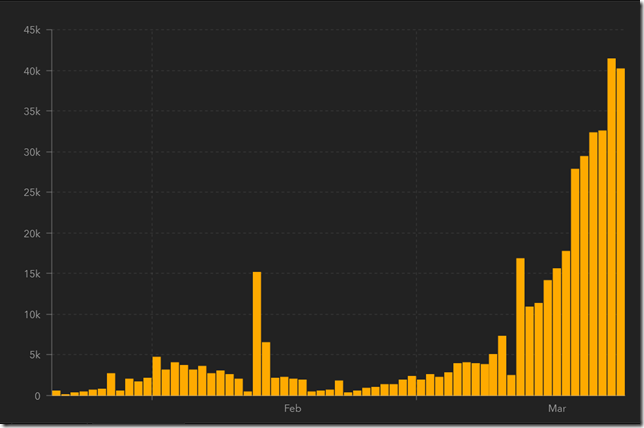 Tuesday – JHU dashboard jumped from ~365k to over ~415k. The global growth is huge; most from the US. NYC is hot. Work from home/school from home is settling into a rhythm. Up on time, breakfast, work/study, lunch, freetime for the kids. Having lunch together is really helping as a keystone of the day. WA DOH data missing the negative test data again.
Monday – @wsdot_traffic updated the message boards on the major highways. Traffic is exceptionally light. Watching the unfolding NYC horror.
The JHU dashboard looks to have an update – showing US counties now. Also looks to have removed the China/ROW from the confirmed/increase charts. US spread is explosive – major metro areas, small outbreaks following the interstates. New cases at >30k per day now.  Italy new cases rate is dropping. South Korea new cases lowest in weeks.
It took 67 days from the first reported case to reach the first 100,000 cases of Covid-19, but it took only 11 days for the second 100,000 cases, and just four days for the third 100,000 cases, WHO director general Tedros Adhanom Ghebreyesus, said.
UK FCO calls for Britons to return home – there may not be commercial flights within "days". UK now in enforced lockdown.
Local and global coverage for future reference.