Sunday – hopefully another sunny day. Time for some gardening, fresh air and sun! US has around 25% of the total global cases of COVID19 that have been reported.
Good longer read from The Seattle Times on the early days of the pandemic in WA.
It is exactly one calendar month since I worked in the office. Kids came out of school on 12 March.
Saturday – shopping for groceries and some manure for the garden. Sun is out. Shortages, empty shelves, rationing in the stores and distancing everywhere. About 50% of the folk out are now wearing masks.
That daily increase chart 100k new positive cases globally. Today. That's more cases reported today than reported by the whole of Hubei province.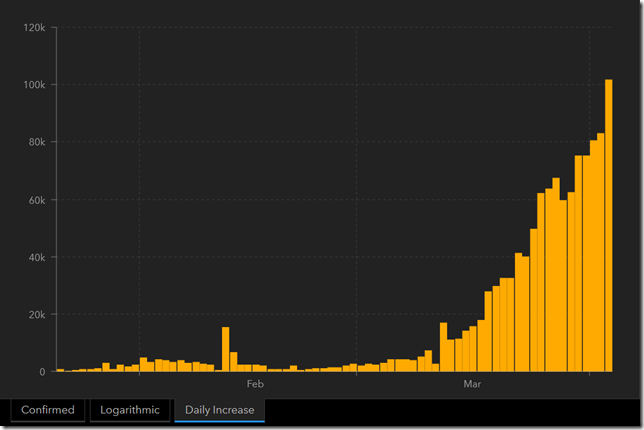 Friday – 684 deaths in the UK. Over 1000 in the US. This is a numbing scale of death. Nightingale Hospital London opened. The Queen will address the nation on Sunday.
Thursday – head down and working. Today the total global cases ticket over 1 million. 240k in the US. WA DOH still have no updated data.
Wednesday – WA DOH are getting heat about data ingress and reporting. No updates. PowerBI is updated, table view is back. Data is now three days stale with issues from the previous week.
883k postive cases reported globally. 190k in USA. Trump pivot to "240k dead by May". 563 deaths in UK today.
Tuesday – back into the rhythm of work from home. Calls, lunch with the kids, talk about the day, dinner.
WA DOH data hasn't been updated for days. Power BI move seems to have stalled at 28/March.
The Department of Health is committed to continued data transparency.
We are working to ensure daily numbers are posted on time. Here's some context about recent challenges:
 The Washington Disease Reporting System (WDRS) is used to report notifiable conditions.
 Outside a pandemic, only positive results would be reported.
 WDRS is now tracking negative results for COVID-19. This volume is overwhelming the tool.
 We have worked with the vendor supporting WDRS to increase capacity.
 We are also investigating additional solutions, which may include:
o A separate reporting tool for negative results (roughly 93% of the data at this time).
o Automating deduplication work performed manually each day. One day last week, more than 2,000 duplicate results were removed to ensure accurate, reliable numbers.
DOH will share additional updates if this problem persists. We cannot provide an estimate for the next release of numbers, but are working diligently toward that goal.
This week, DOH made several new data points available. Our website now includes visualizations showing confirmed cases, the epidemiological curve, cumulative case and death counts, testing numbers, and demographic information. Also coming soon is hospitalization data.
We are working closely with Microsoft to optimize the user experience for this data, including for those without a high-speed connection or those working from a mobile device.
NHS sees extreme shortages. 381 deaths in UK today.
Monday – the start of the fourth full week of isolation and work from home. At some point there are two items of housekeeping I need to do:
re-order these posts so they read in reverse chronological order (newest at the top, oldest at the bottom)
re-work the WA DOH model that I have, to use PowerBI and also align the data boundaries to the new midnight cutoffs coming from WA DOH.
WA DOH data still has gaps – I think the new visualisation and reporting will make this more consistent – but there are a few days of holes: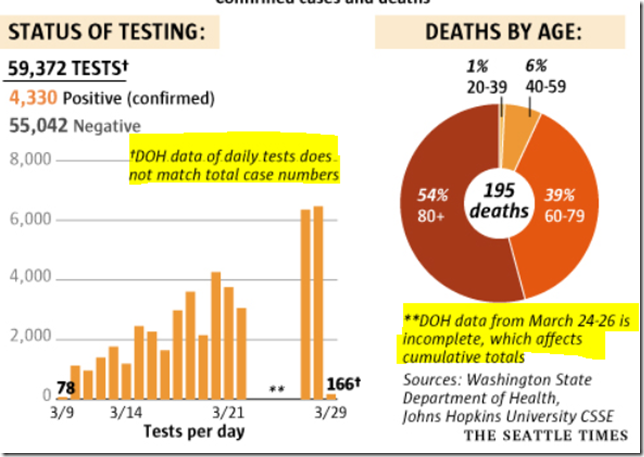 Kids are still home. There are pitchfork mobs ready for Issaquah School District – there are some awful folk on social media. 1284 deaths in the UK.
Local and global coverage for future reference.