Weekend – a long weekend. Dominic Cummings row is slowly coming to the boil in the UK. BBC summary search optimisation: https://www.bbc.com/news/live/world as the root. Horrible.
Saturday data from The Seattle Times
Friday – plenty of discussion about Washington State unemployment and how it's been hit by online fraud. Identity theft and reuse of PII seem to be the cause. Good results from a project at work – "six months of work done in two weeks". Churches "essential" says Trump, pandering to the base.
Thursday – another day of triple booked meetings. Urg. Work now realise that meetings are sucking every morsel of productive time out of the day. It's like Microsoft again. Looking to reduce meeting load for the team. Daily standup and get to work.
Wednesday – 16 hours back to back on calls. Some work, some for 5th LD Dems. Online voting went really well. Cloudflare fronting a huge Azure E20s_v3 (160GB RAM, 20 vCPU) and zero issues.
Tuesday – continued linear growth of the number of cases around the globe. Second peaks appearing in the US. Lockdown isn't consistent. Counting of deaths in the US is being fudged for political reasons. US trailing 7 day trend is down – but it's mainly bubbling out the New York cases, remove that data and it's up, up, up. 22k/day new cases.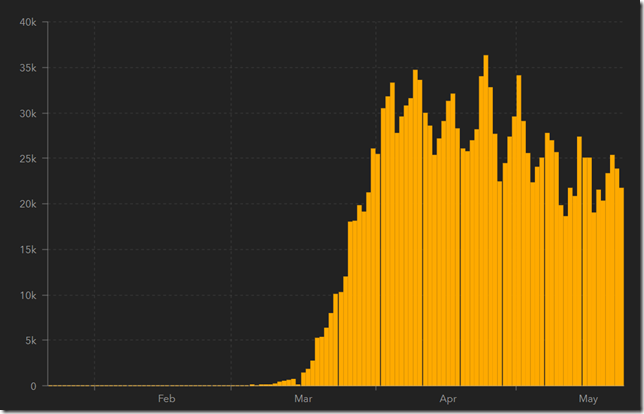 Monday – Week 11. Really? Week 11? This week looks busy – AP exams for the eldest, big project trying to go live at work, building a voting mechanism for the local Dems. News continues to look positive (careful reopening of parts of WA State), negligent (widespread, willful ignoring of masks) and terrifying (Russia and Brazil cases)
Local and global coverage for future reference.