Weekend – Second wave stories everywhere – US states, Beijing, UK.
UK death rate slowing quickly. Latin America growth; Brazil as epicenter.
Seattle Times data for the week.
Friday – UK GDP shrank by 20% in April. Lots of discussion about the steps needed to "be in the office" to get a task done – VP approval, limited ingress and egress routes, security notification, masks required.
Thursday – the news cycle slowly pivots back to coronavirus. US at more than 2 million positive cases. Contact tracing not working well in the UK – third of positive cases missed.
Wednesday – UK needs planning for return to school in September. Work is looking at "next year" for return.
Another reminder on searching for specific day coronavirus coverage:
The Guardian: https://www.theguardian.com/world/live/2020/mmm/dd/coronavirus
BBC News: https://www.bbc.com/news/live/world and "As it happened"
Tuesday – Somehow my post from this day got deleted – rewrite time. Lots of examples of "early reopening" causing a huge uptick in positive coronavirus cases.
Arizona: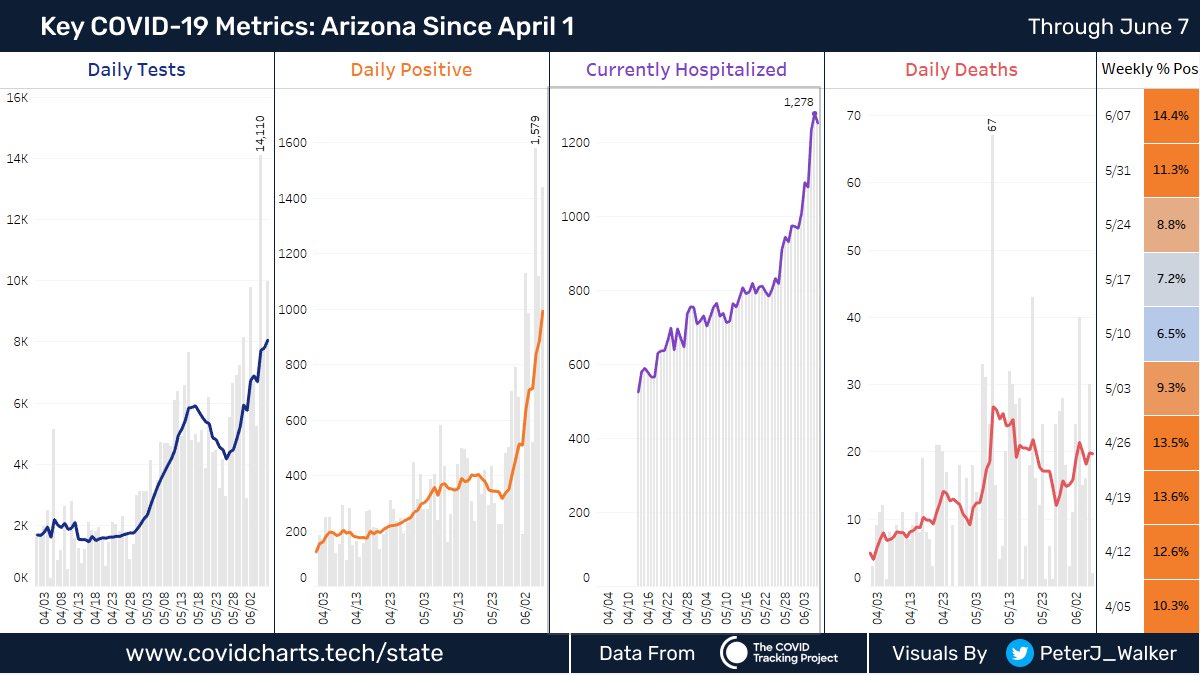 Monday – yes, this is week 14. We will be at day 100.
As we approach the end of the school year (in the Northern hemisphere at least) – eyes are looking forward to school and university return. Still unknown what any of that really looks like.
Good news: Berlin, Paris, Dublin reopening. UK reports lowest coronavirus death toll since 22 March.
Bad news: More reports of moving average positive cases ticking up across multiple US states.
It looks like The Seattle Times have stopped with their live local updates page for coronavirus. I'm not surprised – the massive protests across Seattle have drained their newsroom.
Local and global coverage for future reference.