Weekend – "cases surge" in US sun belt states. Another delve into Google search to find the missing Saturday BBC update.
Now over 10MM global cases – and the daily cases is quickly picking up again. Sustained 170k new cases per day.
US new cases is massive – 40k plus per day. Even comparing against Tuesday this is horrific. Again – from JHU.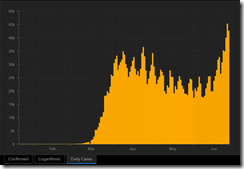 Weekly update from The Seattle Times. That long slow uptick in cases looks to be mainly from Yakima county. Moving average of around 400 cases/day – which is similar to early April.
Friday – 40k daily cases in the US, TX bars ordered to close. The status quo isn't working. Social distancing and wearing a mask does. VP Pence claims "US Progress" which is not clear.
Thursday – UK sun – and tens of thousands crowding beaches. US cases continue to climb.
Wednesday – over 9M global positive cases; 500K deaths.
Tuesday – WA Statewide requirement to wear masks in public. Booming cases in Yakima county and broad uptick across the state.
Global daily cases is growing; US daily cases dipped in May after the NY outbreak slowed; but is now picking up again. Back at March/April new cases rates. Graphs from JHU.
Monday – UK starts to open up fully. UK considers social distancing change from 2m to 1m.
Local and global coverage for future reference.