Weekend – the usual look at the ever more bleak numbers. This does feel like a slow roll to millions of deaths in the US.
US daily cases; via JHU. Surely on the path to 100k per day by month end. Lack of strong policy on mask wearing, distancing and healthcare will make this become a reality. This is WA, NY, NJ played out large four months later.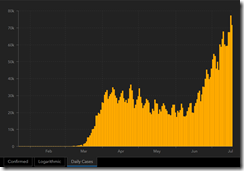 The Seattle Times- rolling average new cases is now way higher than March/April – so the Governor is having to roll back reopening. I'm planning for no school, no in-office work until at least the new year.
Friday – UK looks at "significant normality by Christmas", US has record 77.3k new cases, GA Gov v Atlanta major legal action over masks. Restrictions returning to WA state as cases continue to creep upwards; more new cases now than back in March/April.
Thursday – WA DOH changing the counting mechanism again. Back to school is going to be a real issue, really soon. Health, safety, funding – and possible labour cuts (no buses, no schools – what to do with bus drivers and custodians?). What is a hybrid model? K-2 in school?
Wednesday – Fauci is an honourable man. Work from home until 2021 is likely.
Tuesday – masks required in UK shops. WA COVID death reporting via the state is broken again. Lockdown returns around the world. Second wave? Continued first wave? Unknown what September brings for return to school – quarantining teachers on every positive case amongst pupils would remove the workforce within a week.
Monday – back in March I had thoughts that this would be through the spring; looking at Wuhan and Italy, then New York, then New Zealand – it seemed like the coronavirus could be contained and a planful return to work sometime in the summer.
Where we are today, in both WA state and across the US, is anything but contained. Local hotspots in Yakima County, national runaway cases across many, many states who opened early.
Without national leadership, and some selfless actions to distance, wear masks and quarantine – the US is going to be isolated and work from home for another six months minimum.