Weekend – Russia planning mass vaccinations. FA Cup with no crowd. Hong Kong delays elections. India as the newest hotspot. European cases continue to pick up. Looks like a second wave is really rolling in now across Europe.
A fresh look for the data from The Seattle Times; maybe six months of data needs it. The 14 day average death rate has picked up; cases are still climbing.
Friday – UK pauses coming out of lockdown/quarantine. 300k new cases globally today. UK beaches are "packed" – look for another bump in numbers from this mid-August. Good read on numbers in Europe.
Thursday – almost 4.5MM US cases; 152k deaths. I know more and more people who have "had" COVID-19 and are completely wiped out afterwards. Staying home, staying safe. England worst excess deaths in Europe between Feb – June. Shocking. Spain heading back to lockdown. US economy crashed 32% in Q2.
Wednesday – WA State positive cases still running >5%; target is 2% which shows measures are working. Graphic from The Seattle Times.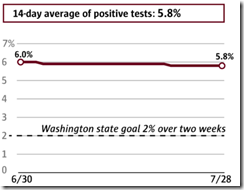 Tuesday – US daily cases – as reported by JHU dashboard – seems to have flattened. Whether this is because cases have flattened, or a result of the changes in reporting (CDC to HHS) remains to be seen. Pandemic economic costs are vast – including $320B for tourism alone. I do wonder what will be left after this. Spain, Iran, Italy – all reporting renewed surge of cases.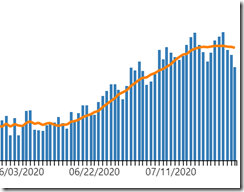 Monday – heading into August this week. US is still struggling with 4.2M cases; almost 150k deaths. Good "how to control it" thread from Andy Slavitt – unpopular, political U turns, acknowledgement and humility that it's not a hoax. I don't see any of this happening. WHO: 'most severe health emergency WHO has faced'. New travel restrictions in Europe. More positive cases in the White House.