Weekend – long read on the VIC, Australia outbreak. MLS season is restarting. Long read on Vietnam success and second wave. BBC summary is missing again (Saturday and Sunday). 5 million US cases; that's 1.5% of the population confirmed with a positive test.
Weekly summary of Washington State from The Seattle Times.
Friday – good read on the US failure to contain and control coronavirus. Tests are down statewide and US wide. More UK lockdowns as a second wave rolls through.
Thursday – much discussion about track and trace, use of phone apps, national vs state. What a mess. US travel restrictions are lifted – but no one will let US travelers in.
Wednesday –
Tuesday – one bright spot – that the local positive test results are trending in the right direction. King County Public Health shows 1.6% positive cases in Issaquah between 13-27 July.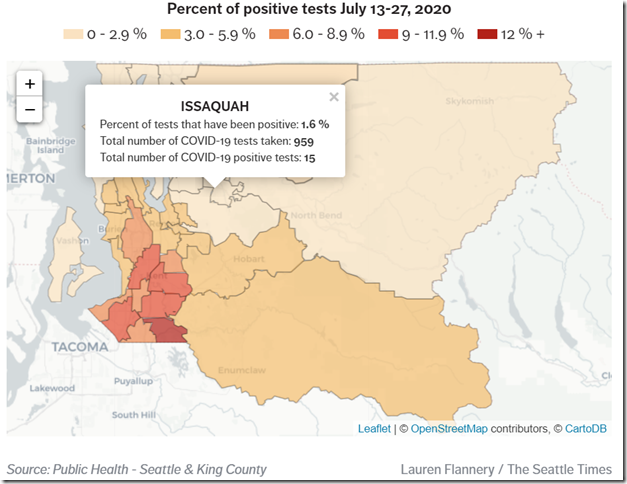 Monday – pretty much everyone I know who thought this would be over by "early summer" is now thing "early 2021 at the best". Massive borrowing globally to prop up economies and keep people going. WHO say there may "never be a silver bullet" against COVID. As noted several weeks ago, this is going to become part of the annual flu/COVID shot discipline. UK lockdowns return. 18.2 MM cases confirmed, 691k deaths. US numbers may not be trustworthy.