Slightly changing the title of the post to reflect this is week 32 of working from home; week 43 of 2020.
Weekend – Victoria, Australia flaring up again. UK urging "fresh air", and this in the Seattle Times about Friluftsliv.
Weekly graph for Washington State, from the Seattle Times.
Friday – "3M cases in Spain" – 3x reported number. Multiple lockdowns across Europe. 80k + daily cases in the US.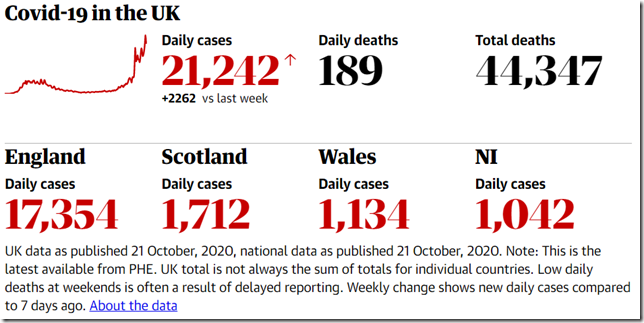 Thursday – Curfew and lockdown orders across Europe. US State numbers growing.
Wednesday – So many European countries in escalating cases. UK, Spain, France, Germany, Italy.
Tuesday – Manchester/NW England facing lockdown enforcement.
Monday – 40M global cases. "Tsunami" of cases in Belgium and across Europe. 48 US States with increasing cases.
I found this too: https://www.theguardian.com/world/series/coronavirus-live