Weekend – 2142 cases in WA yesterday; way about the March/July peaks. Positive test rate is heading to 5.7% and above. 184k new cases in the US on Friday. Europe-wide lockdowns are returning. Trump says "vaccine ready, except for New York". Five more months of "severe" restrictions. WA heading back to tighter lockdown.
The Seattle Times has the weekly graph of State-wide data. It's not looking good. 2000+ cases and more seem to be on the cards. This is heading into Thanksgiving.
Friday – Gov Inslee urges WA residents to not travel for Thanksgiving. This is likely to be the next super-spreader holiday weekend. This is a cool visualisation from GA Tech. I worry it's got "yellow, so it's safe".. 150k cases in the US yesterday. That's a run rate of 1M per week.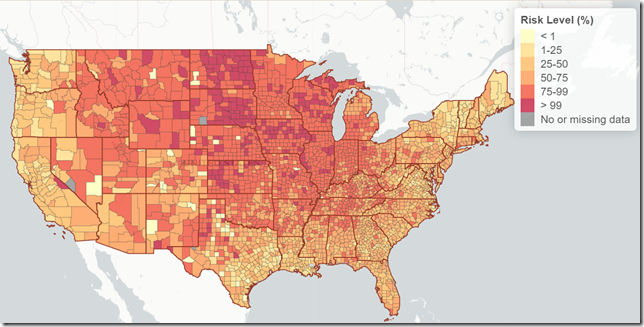 Thursday – those UK curves. Ouch. Graphs from The Guardian. Cases peaked, hospitals filling, deaths following along behind.

Wednesday – 1 million cases in Texas, 1 million new US cases in the last nine days. On track for 1M+ cases per week – with the associated hospitalisation and deaths. Locally in Washington State the positive case numbers are up dramatically but hospitals and deaths are still lagging (i.e. flat). Graphs from The Seattle Times.
Tuesday – the deaths lag the hospital intake, which lags the positive cases. England & Wales death tolls jumps 41%
Monday – Biden transition announces COVID-19 Task Force. Positive news on vaccines. "Back to normal by Spring 2021"