Weekend – it's Saturday and the graph from The Seattle Times is grim reading. Average number of positive cases >3000 per day for a few days. Positive cases >12.5%. We were doing so well. Is this "mask and isolation and lockdown" fatigue – or just the follow on from Thanksgiving where it seemed like everyone travelled.
Friday – Hanukkah, Christmas – following on from Thanksgiving. Flu season. Lots to be really concerned about. Vaccines are being approved. Vaccines are being withdrawn for more testing.
Thursday – US recordbreaking deaths – 3000 in one 24 hour period.
Wednesday – The US cumulative cases curve isn't slowing down..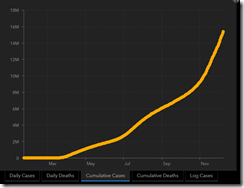 Tuesday – UK starts vaccinations. The beginning of the end? Perhaps. More closures and restrictions to come. Margaret Keenan, William Shakespeare first and second on the NHS.
Monday – week 39. Is this still "lockdown" – yes. It's been nine months of social distancing, working from home, near zero normal social activity (football, movies, eating out). What we have done has been just us, masks on, six+ feet apart.