Weekend – More numbers. 46k NHS employees are sick with Covid. 3M cases in the UK, 80k deaths. UK CMO says "restrictions are too lax" – and probably there is a lot of rule bending going on. Washington State planning mass vaccination sites. 20% of England may have had Coronavirus.
New cases in Washington State are relatively flat – but still high. Data as always from The Seattle Times.
Friday – that UK data still going up. US at 4000+ daily deaths for a few days now. That news has been lost in the chaos. London declared a Covid emergency.

In April – shock at 5000+ new cases per day, in November – shock at 20k+ new cases per day. Now 60k+…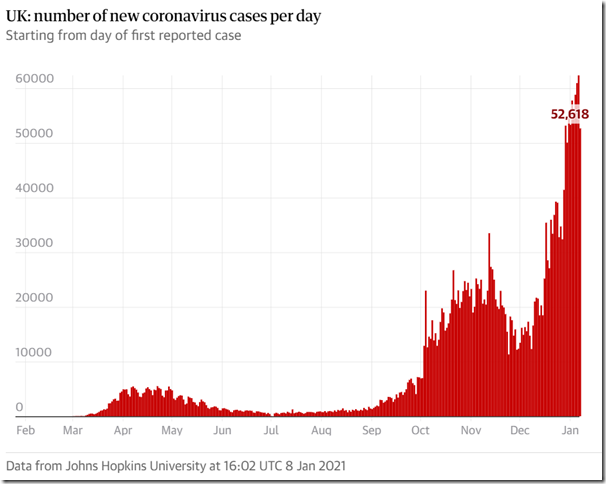 Thursday – vast numbers of UK cases, locally vaccination is slow.
Wednesday – rioting and attempted coup. Big news, and moves the pandemic off the front page.
Tuesday – The Guardian tracker now showing percentage in the UK having had at least once vaccination. Almost 61k new cases in the UK. Daily cases trending downwards in Washington State which is good.

Monday – "back to work" and "back to school" with everyone still stuck at home. The first week of the new year – "work week 1" – and the next milestone will be a year of working from home. Vaccines are being slow, England moved to full lockdown again. Vast numbers of new cases in the UK and the US. 350k deaths in the US.
https://www.theguardian.com/world/series/coronavirus-live