Weekend – cases declining in Washington State, positive rate is relatively stable at just under 8%.
US Daily reported cases below 100k/day for the first time since the end of October 2020. Data from JHU.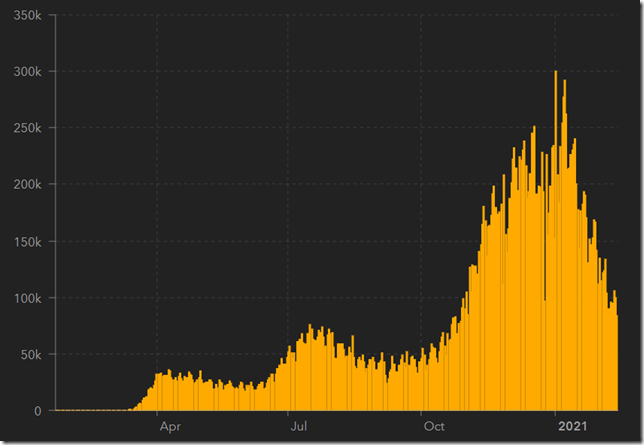 Weekend numbers from The Seattle Times.
Friday – UK hits 21% of population with at least one vaccine shot.

Thursday – WHO continue to search for the origin of this coronavirus. 600M vaccines by July for US. Population should be vaccinated by summer.
Wednesday – as vaccines continue to be rolled out, counties, countries are starting to open back up.
Tuesday – "Wuhan lab leak" unlikely to be source of coronavirus. Continued border closures as governments try to extinguish spread.
Monday – UK variant of COVID-19 is rapidly spreading in the US. Slowly vaccines are getting delivered.
https://www.theguardian.com/world/series/coronavirus-live