Weekend – Italy, Germany, France all picking up for another wave. I think this goes back to the earliest days (a year ago!) – the hammer and the dance. This is going to be the Spring story – racing to produce, ship and deliver vaccines across the globe; and getting enough people immunised.
Casing surging across Europe. JHU/The Guardian graphic.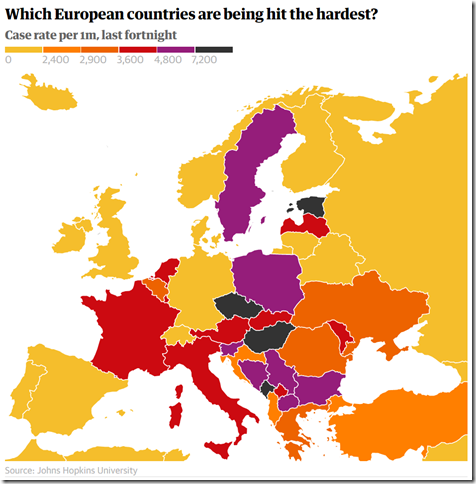 Washington State weekly recap from The Seattle Times. Positive tests have ticked back up.
Friday – The "people we know who have been vaccinated" list keeps growing. Friends, family, colleagues. All positive. 100M shots in 58 days; weeks ahead of schedule. On the downside – positive cases are picking up; lots of B117 variant in the US – and it's spreading just as states open up too early. It's a race to vaccinate "most" before the next wave comes through.
Thursday – vaccine manufacturing shortages. Hoarding/export bans for vaccine.
Wednesday – Looking back at last year; and there was absolute panic: blueprints for ventilators being sent to industry, closing borders, exams being cancelled, schools closing.
Tuesday – AstraZeneca vaccine "safe", another wave of infections in France.
Monday – The blog rolls around. Officially more than a year of weekly synopsis.
A reminder of "this time last year" and the panic buying:
https://www.theguardian.com/world/series/coronavirus-live