Weekend – clear signs and reporting of another wave. Brazil is still a tragedy; US is racing to immunize; half the population seem to be out and about.
Weekly summary of Washington State cases from The Seattle Times. That positive rate picking up; and the number of cases still being around 1000 per day is really sad. Nowhere close to being done with this.
For the first time; The Seattle Times daily COVID news is "below the fold" on the website.
Friday – a story of multiple parts. Declining cases in the US and UK; another wave building in Europe. Is the US about to follow? Certainly looking at the rates there's a lot of folk without masks, spring break, kids back at school, more virulent variants running wild. April will be interesting – have 200M vaccinations beaten the spread? I hope so.
Thursday – EU vaccine production and distribution woes. What should have been a triumph of the commons is coming unraveled quickly.
Wednesday – the story of vaccine chasers – I have colleagues who did exactly this; showed up at end of day and got vaccinated.
Tuesday – AstraZeneca in the news again; blood clots; approvals; export restrictions.
Monday – the tragedy of timing continues. Looks like a major wave is about to break over most of Europe; looking at the rates in the US I think there will be regional waves too. Germany looking at closing all stores; Poland talking about closing churches. New variants are more virulent and affect younger people. Lockdown fatigue – and here in Washington State we may be seeing a similar up-tick. Time will tell.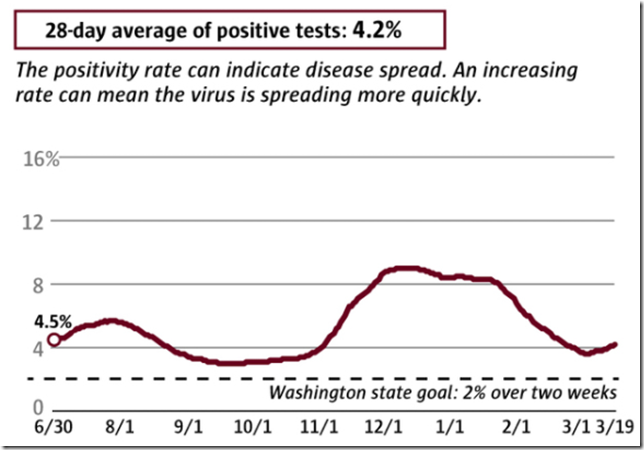 https://www.theguardian.com/world/series/coronavirus-live