Weekend – deaths, protests, politics.
Seattle Times weekly status. Average case numbers seems to be stabilising at around 4300 cases per week – which is still higher than any point of the pandemic to date.
Friday – vaccine mandates announced in the US. Political firestorm follows.
Thursday – Microsoft "no return to office in foreseeable future, indefinitely delayed" – which seems to be the new normal with Delta cases across the State, US and world climbing still. Here in King County – cases per 100k population seems to have stabilised. Still too high by far.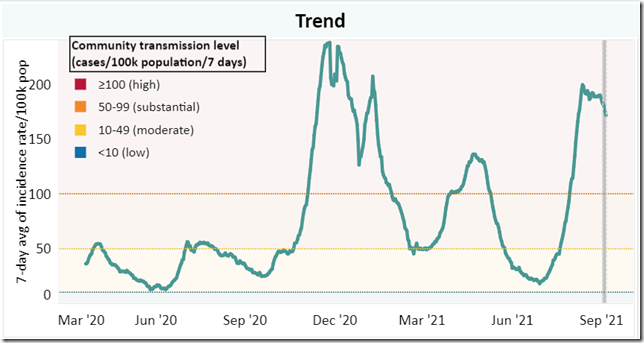 Data from King County Health Key indicators of COVID-19 activity – King County
Wednesday – those UK case numbers look dreadful. More cases in the last month than over the 2020 winter break.

Tuesday – Chile approving Sinovac for over 6 year olds.
Monday – UK positive numbers are huge; big discussion on whether this will burn out quickly (October) or slowly (mid 2022). Mu detected variant across the US.
This time last year – vaccine trials, record cases in Europe. Rising cases in US.
https://www.theguardian.com/world/series/coronavirus-live