Weekend – the usual glimpse at state data, and there are a lot of cases, hospitalisations, and the death rate is flat. 77% omicron. UK case rates are still 80k+; but falling rapidly.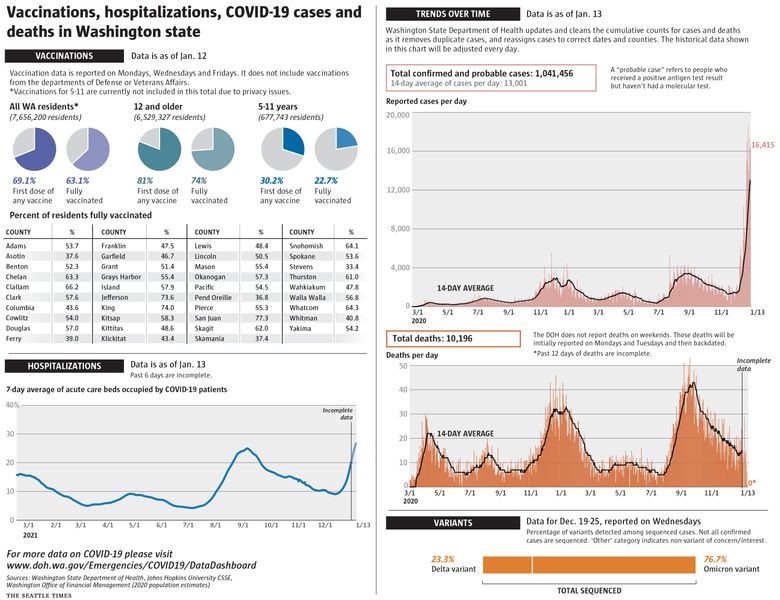 Friday – school districts locally continue to move to remote learning due to staff shortages. That rapid peak of cases, the wave of hospitalisations and deaths is coming behind.

Thursday – UK cases are dropping; virus traces in sewage in Boston, MA show that cases may also have peaked.
Wednesday – rapidly approaching the two year anniversary of the first cases of Covid in the US, here in Washington State. Schools are closing because of cases in teachers, support staff, bus drivers, etc.
Tuesday – record breaking case counts across Western Europe; UK looks to be declining; SA see omicron rapidly burning out. CDC now recommending N95/KN95 masks. "Up to 60% of KN95 masks are counterfeit"
Monday – record hospital admissions in the US – over 132k hospitalised. Work from home mandate in Sweden. New Zealand preparing for omicron; there's a lot that can be learned.
This time last year – "will variants evade the current vaccines", the shock of 60k+ cases per day in the UK, 2500 cases in Washington State.
https://www.theguardian.com/world/series/coronavirus-live