Weekend – with war in Europe dominating the headlines, the US and much of Europe seems to have forgotten we're in the tail end of a pandemic.
Cases are down – but still higher than much of the last two years.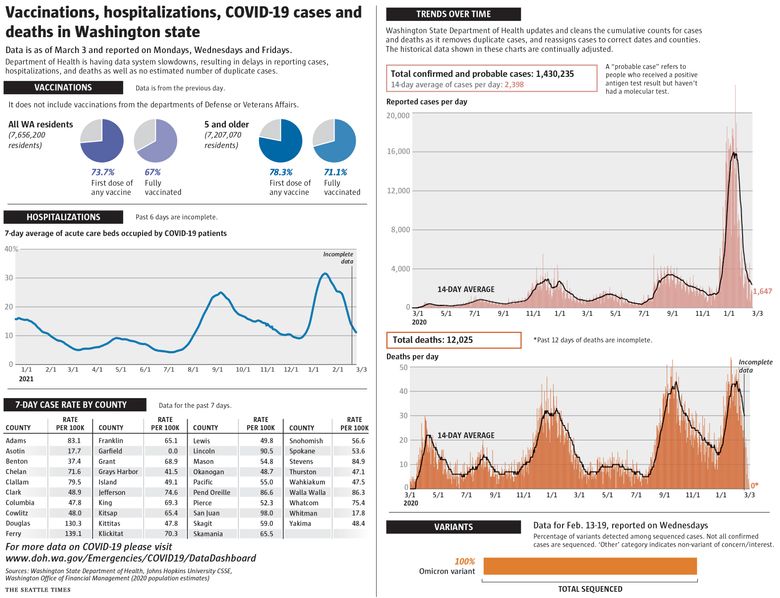 Friday – Hong Kong planning to test all residents, shops rationing some food and medicines.
Thursday – Live coverage from the Guardian looks to be over. Newsroom is focused instead on war in Ukraine.
Wednesday – the end of Omicron is being mistaken for the end of Covid.
Tuesday – the smaller, child sized, shots of Pfizer are less effective. Stops serious illness, but doesn't prevent infection.
Monday – European war, and the potential for massive global escalation, has given The Guardian newsroom a completely different focus. No daily aggregates from The Guardian in almost a week.
This time 2021 – vaccine rollout well underway; 28M in US with two shots. A great early lead.
This time 2020 – I was in the office, running an architecture design session, no social distancing. All of the talk was about the coronavirus. 2 March 2020 – State Of Emergency declared in Washington State. Work from home officially started on 6th March.
https://www.theguardian.com/world/series/coronavirus-live