Weekend – A globe of rich vs poor. In-person events like the FA Cup Semi Final, soccer and baseball games in the UK and the US; in India, Brazil and other areas record breaking new cases. Washington State numbers are steadily climbing; Gov Inslee calling this "wave 4".
Data again from the weekend Seattle Times.
Friday – "Pandemic fatigue" is the zeitgeist – and as a result cases are surging.
Thursday – more reporting on the politics behind vaccines. Red vs Blue states. Voting history being a strong correlation to intent to vaccinate.
Wednesday – J&J and AstraZeneca tests being stopped or delayed. Increasing positive tests globally – UK, France, India, US; here in Washington State I am sure this is another wave slowly breaking. If so – it's going to be another summer of restrictions. Graph from The Seattle Times.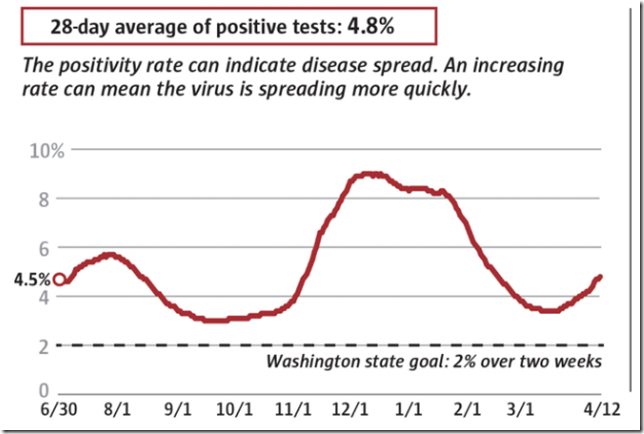 Tuesday – six blood clot cases from millions of doses; yet the J&J vaccine is being delayed. Two WA counties are moved back to Phase 2 of reopening; King County was close to being pushed backed.
Monday – UK reduces lockdown. Long queues for shops, bars, haircuts. WHO: Pandemic "a long way from over".
This time last year was "week 6" – and at work we were discussion what return to work would look like. Ran my first Zoom meeting with online voting for 5th LD Dems. "Reopen America" was trending.
https://www.theguardian.com/world/series/coronavirus-live