Weekend – The tale of rich vs poor. US and UK having a significant program for immunisation and re-opening; vs India and Brazil.
Washington State numbers tell two stories; of vaccines in arms and re-opening, and a fourth wave of new infections hitting younger people. The infection rate, cases per day and death rate are all above last fall.
Friday – WA pushing hard to over come "vaccine reluctance", especially in more red counties. Very clear male/female divide too.
Thursday – "Indian variant" B1617 detected in the UK. This is the massive risk; a new variant emerges in India, Russia, another country with huge numbers of cases – and that is the "perfect virus" – virulent, deadly and not touched by the current vaccines
Wednesday – King County, WA (home of Seattle) is almost certain to slide back into Phase 2 restrictions. More cases, less compliance. I've been flagging this for a month plus. This is looking very much like November 2020; with younger folk getting sick.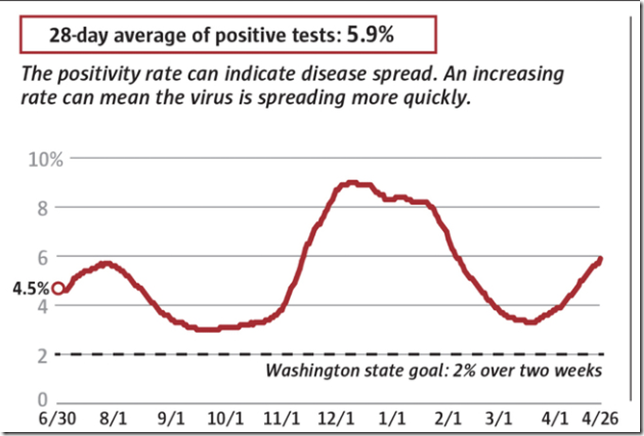 Tuesday – Headlines are about India. Oxygen, hospitals, hundreds and hundreds of cases. Variants, election season and mass events over the past month have built up to this.
Monday – another week of commentary; and we roll over into May. Seattle Times paywall again. This time last year I did a coronavirus antibodies test to see if I was exposed in early 2020. Negative. Also this time last year 65k deaths in the US – and NY was getting overwhelmed. Early discussions about "return to the office". Looking back – so naive.
https://www.theguardian.com/world/series/coronavirus-live