Weekend – new look for the regular Seattle Times infographic on the state of Covid cases in Washington State. Some good data here on vaccination rates.
India variant still continues to raise concerns; UK NHS flagging this as a major issue and risk to re-opening.
Second time around for Covid birthdays – and this time we felt the risk significantly reduced and ate out.
Continued grumbling about mask rules; ultimately it boils down to trust. Many that are vaccinated don't trust those that never wore masks.
Friday – Washington State delayed further restrictions; with the anticipation that the vaccinations would cause the positive cases to plateau and fall. It looks like that is happening. Gov Inslee looks at potential lifting of restrictions by end of June – that's just six weeks away.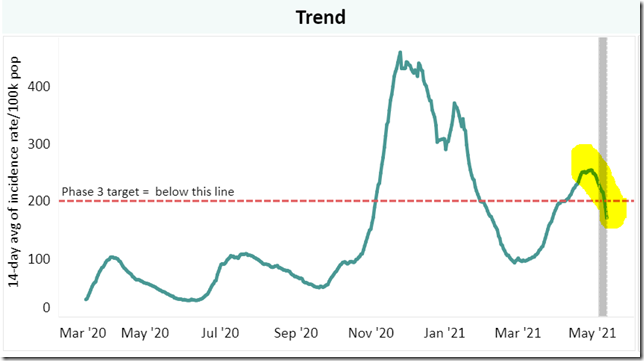 Thursday – the boy had his first Pfizer jab. Counting the weeks to a fully vaccinated household. CDC announces major change for those fully vaccinated: "Fully vaccinated people can resume activities without wearing a mask or physically distancing, except where required by federal, state, local, tribal, or territorial laws, rules, and regulations, including local business and workplace guidance." Now it's a gamble of "who is vaccinated, who is not" because both groups will be maskless :\ India variant B.1.617.2 could be escaping.
Wednesday – warm weather here; and it's as if COVID never happened. Folk out and about. We need a push to incentivize the many who have not been vaccinated to get theirs.
Tuesday – India variant "critical global risk" – I'm still expecting an escape variant that is untouched by the current vaccines. That would be incredibly disruptive.
Monday – Pfizer vaccine soon to be approved for 12-15 year olds. That's really going to make school in September viable – especially for middle school upwards. India continues to ride the wave of cases.
This time last year – "Warp Speed", 4MM global cases, WHO say Covid might never go away.
https://www.theguardian.com/world/series/coronavirus-live