Weekend – More huge case loads across Asia. Vietnam, Indonesia called out. Australia in lockdown. New Zealand carefully watching. Russia has five days of case spikes. UK warns of "variant factory" if restrictions are lifted too soon.
Weekend data from The Seattle Times.
Friday – While the US is reopening; the rest of the globe continues to suffer. Europe, South Africa, Australia.
Thursday – Interesting feedback from Europe – Pfizer or Moderna being recommended as follow on dose to the AstraZeneca for maximum protection.
Wednesday – second meeting in the office; everyone was vaccinated and we agreed to be distant but without masks. In person for these planning meetings is more productive. Washington State officially "reopened". Mask requirements are "not coming back" – with >70% vaccinated in King County and >80% locally this might be a good call, except for the case of an exceptionally virulent variant that breaks out. State numbers are lower with only 50% of residents (60% of adults) vaccinated. UK clearly on the rising side of a fourth wave, driven by the delta variant.
Tuesday – digging into the variants again. Iota is the latest that is a potential breakout. Meanwhile King County, WA drops the mask mandate and the State is due to lift all restrictions tomorrow. Meanwhile the UK is running hot with Delta variant – and looking a lot like October 2020.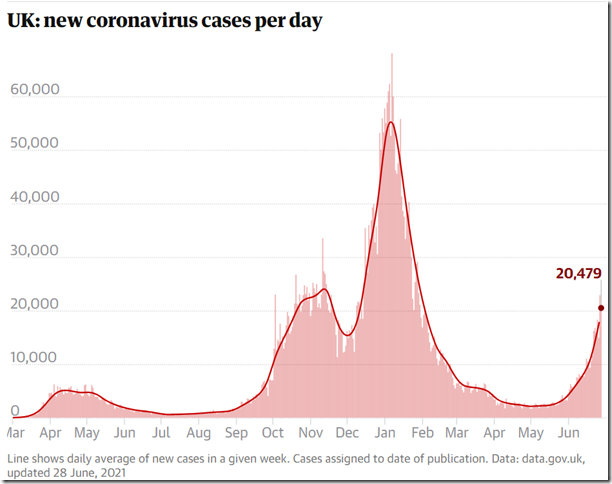 Monday – clearly the emergence of breakout variants is going to be the next concern; reports that >80% vaccination is needed to prevent escape.
This time last year – "too much virus in the US" and Dr Fauci predicted 100K cases per day. Start of the anti-science and anti-vaccine reporting. The cancellation of July 4th events.
https://www.theguardian.com/world/series/coronavirus-live