Weekend – One day, probably before the end of summer, I'll be writing about the variant that escaped, and the scramble to get a new vaccine to fight the new variant. Biden: "Look, the only pandemic we have is among the unvaccinated." In relatively vaccinated King County (>74% of 12+ fully vaccinated, >85% locally) there are pockets of low vaccination rates; that align almost perfectly with voting outcomes. In Seattle and the Eastside; it's almost back to "normal". Compare to areas of the south where it's closer to 30% and raging cases.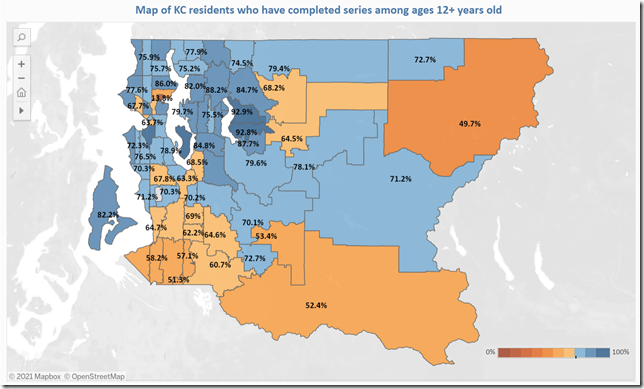 Summary of COVID vaccination among King County residents – King County
More UK U turns on PM isolation.
Weekly snapshot of data from The Seattle Times. Note the slight uptick in new cases :\
Friday – my fears in a Guardian article. "England Covid unlocking is a threat to the world"
Thursday – 48,553 new delta variant cases in the UK. This is like late December. Hospitalisations and deaths are lagging; but because of vaccinations are at a lower rate than last year. Washington State finally reaches 70% of adults having one or more vaccine doses. US – Canada border may re-open for travel in mid-August.
Wednesday – Multiple locations returning to curfew and lockdown.
Tuesday – "Freedom Day" in the UK in a week; and an "Exit Wave". Bold and daring; or incredibly short sighted and risky…
Monday – UK reopening full of confusion, mixed messaging and backtracking. Euro finals "devastating" for COVID transmission. Ramping cases, warnings of 1000 hospitalisations per day, 200 deaths per day. Great data on cases, admissions and deaths.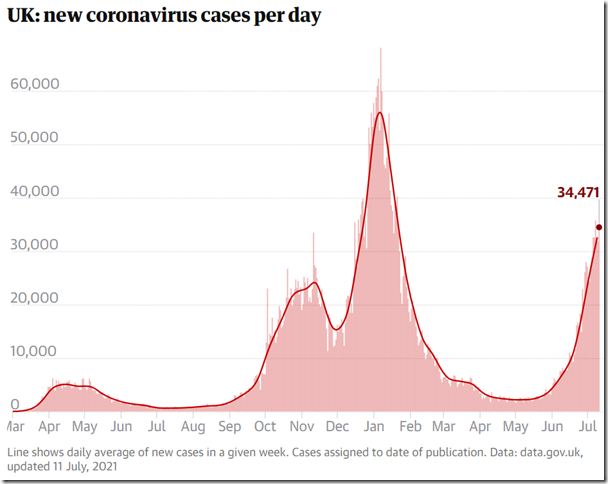 This time last year – UK predicting a "significant normality by Christmas" (it wasn't). Restrictions returned to WA state. Work from home until 2021. Return to school in September up in the air.
https://www.theguardian.com/world/series/coronavirus-live