Weekend- large rush for Covid tests reported in WA; and the cases are really skyrocketing. Push to vaccinate Latino population across Washington. More and more anti-vaccine, Covid-hoaxers are dying.
Friday – Amazon pushes any return to office to January 2022. That's almost two years! Long list of Seattle area bars/restaurants now requiring vaccination or negative test.
Thursday – UK cases are back at 30k/day. France looks to be approving a nation wide vaccination passport.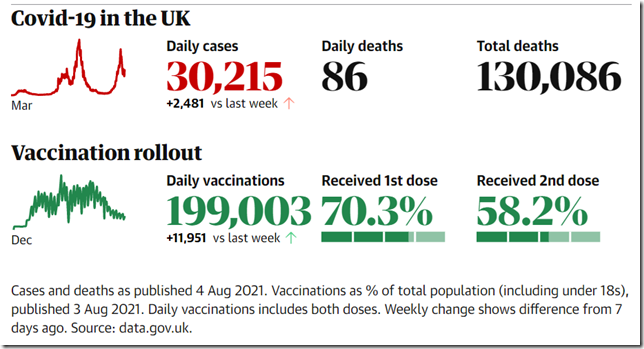 Wednesday – "visitors to the US may require vaccination"
Tuesday – multiple Seattle areas companies – including Microsoft – will require vaccination for return to office.
Monday – 70% of US Adults have now received 1 or more vaccines. There is a rush for both testing and for vaccinations as Delta hits hard in the US South
This time last year – all over by "early summer [of 2020] changes to early 2021".
https://www.theguardian.com/world/series/coronavirus-live