Weekend – Still huge numbers of cases in the UK; >30k per day. Graph from The Guardian.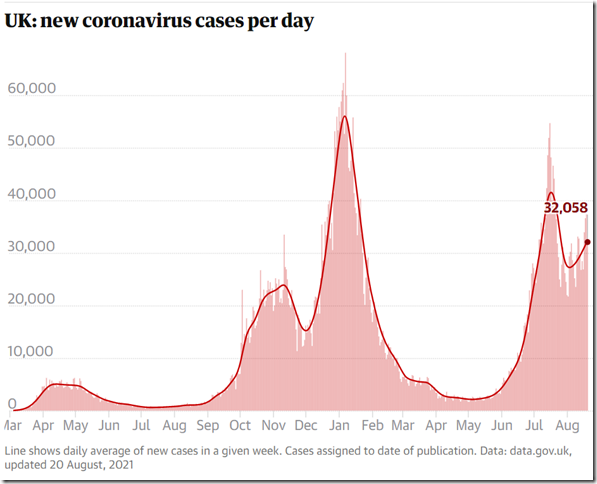 Locally – over two weeks of >3000 cases; hospitals are filling. The death rate is still relatively stable.
Good write up from The Seattle Times on "ZIP code hesitancy" – echoes previous notes here.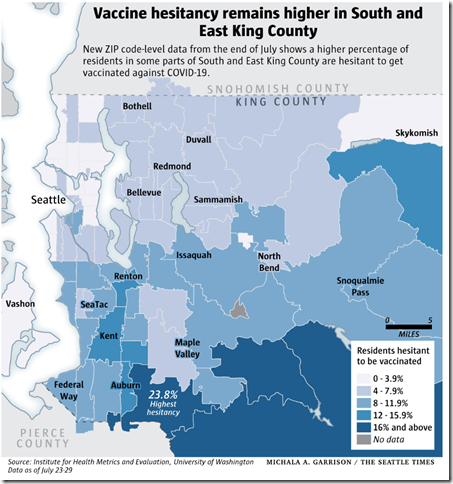 Friday – After last years UV light, bleach and then hydroxychloroquine; now we hear of Ivermectin (used to control stock parasites) being taken. 70% of recent calls to the Mississippi Poison Control Center are regarding Ivermectin poisoning.
Thursday – Local hospitals are full; mainly with younger, non vaccinated patients. From Portland, OR where there is a city-wide ambulance triage and rotation in place.
Wednesday – Delta variant is spreading in NSW, Australia; case numbers are low – but after 18 months of strict border control and late vaccinations – there's a real risk.
Tuesday – UK numbers are still high. NZ reports first case in months. Strong lockdown has high approval in NZ.
Monday – Florida, Texas – cases, mask mandates, politics, schools and full hospitals.
This time last year – news of vaccine trials, mutations, folk rushing back from vacation to avoid lockdown.
https://www.theguardian.com/world/series/coronavirus-live