Weekend – Washington State is now averaging more than 3000 cases per day; which is more than the peak of November/December 2020. Return to school in the northern hemisphere "will lead to sharp rise in cases"
Weekly graphic from The Seattle Times
Friday – UK cases, hospitalisations are rising again. EU moves to restrict travel from the US.

From The Guardian.
Thursday – 990% increase in hospitalisations since July 9th in Portland, OR. Washington State and Oregon State are adopting strict requirements for masking and social distancing.
Wednesday – the continued politicisation of vaccines and masking. Extremely polarising. Locally, King County positive case rates are starting to drop; mask mandate working? Back to school next week – so fingers crossed.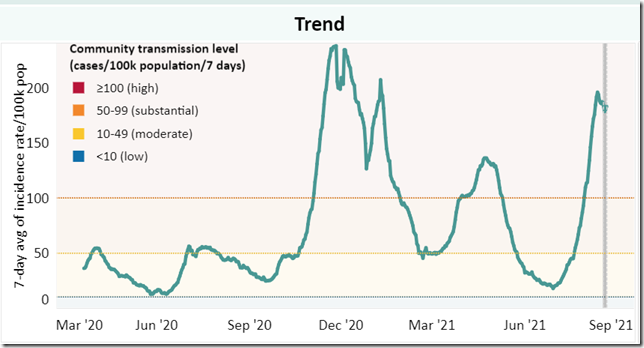 Key indicators of COVID-19 activity – King County
Tuesday – Hawaii heading to shutdown tourists; more US school districts move back to remote learning. School starts here in Washington next week.
Monday – FDA give full approval to the Pfizer/BioNTech vaccine – moving from Emergency Authorisation granted in December 2020.
This time last year – in the plateau before the fall wave; 500 or so cases per day and declining. Compare to a year later – and it's over 3,800 cases per day.
https://www.theguardian.com/world/series/coronavirus-live