Weekend – quite a miserable weekend of news. Bright spots in the local trends, and behaviours (masking, vaccinations, high rates of vaccination).
Friday – looking ahead just a few months, when the calendar rolls around again and into the third year of the pandemic. What to do? Continue daily updates? It certainly seems that after 20 months the pattern is: vaccinations, mandates, protests, cases and lockdowns.
Thursday – continuing the theme. Restrictions on the unvaccinated (Europe, some of the US), bans on vaccination mandates and testing (some of the US). Maddening.
Wednesday – it has been a while since looking at the JHU dashboard; this was go-to-reading at the start of the pandemic. Clear
Global cases show a clear fourth wave building.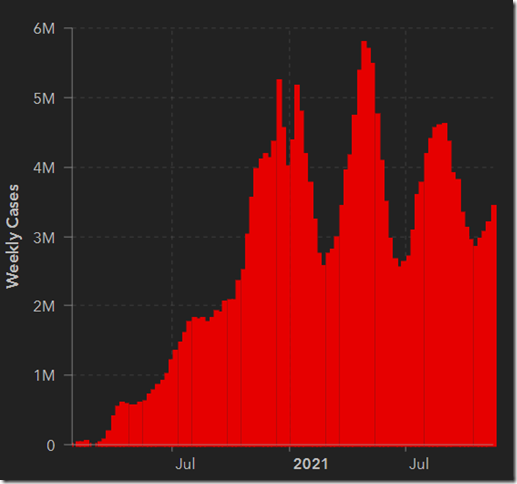 Tuesday – in Europe, more cases, more lockdown, more restrictions on the non-vaccinated. In the US – law suits against all of these.
Monday – heading towards Thanksgiving and the holiday season. King County has >76% vaccinated; close, but still breakout cases.
This time last year – the leap in local, positive cases. 20% positive test rates. Huge pre-Thanksgiving test lines.
Monday (16 Nov 2020) – talking with friends about the last 36 weeks about "lockdown": no school (all from home), no work (all from home), seen friends twice (socially distanced, wearing masks, outside), been outside the town a handful of times (to collect flour and visit Orcas Island for some isolated time away). This has not been normal, it's not been with people. Our bubble of four has has had near zero contact with anyone else.
https://www.theguardian.com/world/series/coronavirus-live