Weekend – UK: "restrictions now, or up to 2M cases per day", Netherlands: immediate lockdown. Weekly look at Washington State – and it's still relatively positive. More locally, King County has a slight increasing trend. 76% of all residents are fully vaccinated (that's from birth), and 86% of 12 and over. In Issaquah it's over 95%.
In a sign that Omicron is here; lateral flow tests are unavailable in stores. Friends with fever getting tested; concern that the local High School has multiple outbreaks.
Good read on Omicron in Demark. Stark warning from Dr Fauci about hospitalisation numbers. Really it's a numbers funnel; vast numbers of cases in the top, increased hospitalisations, increased deaths.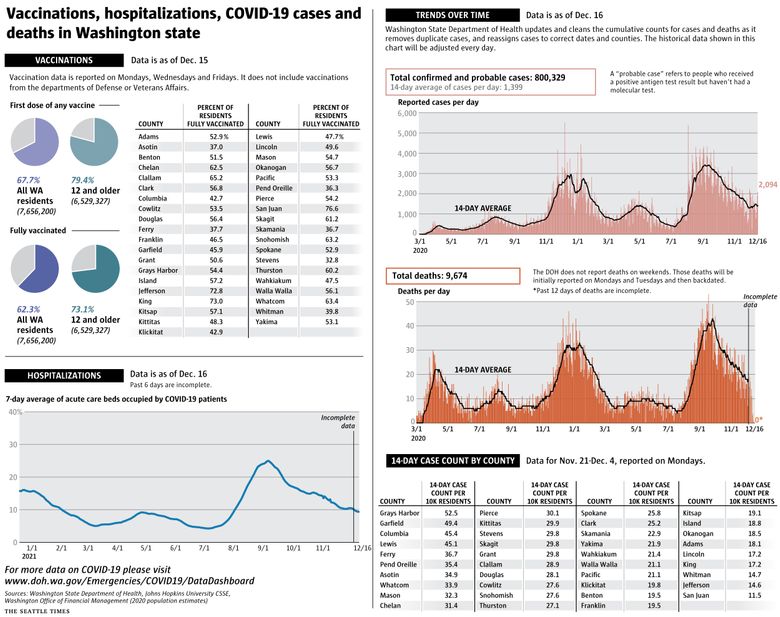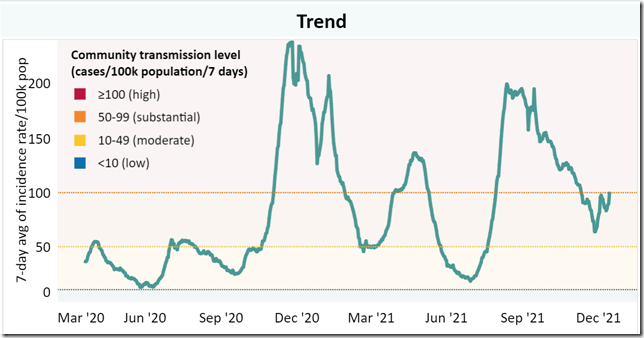 Friday – 93k positive cases in the UK today; with a doubling period of around 3 days. "Frightening" and "Tsunami" really don't do this justice. Really hoping for some better news, but the impact of even a tiny fraction of this case load becoming hospitalised is going to be huge. USA, Germany, UK flagging an overwhelming fifth wave.
Thursday – two massive days of positive cases in the UK. 88k today. Flu, Delta, Omicron. Rising concerns around the globe about rapid Omicron wave, hospitalisations and health system overload.

Wednesday – US looking at "triple whammy" of delta, omicron and flu in mainly unvaccinated areas.
Tuesday – Omicron starting to build up in Washington State. Impact to vaccinated is still unclear. South Africa data shows some hope. Previous infection, with no vaccination, looks to be pretty short lived protection.
Monday – "1 of every 100 older Americans has died of COVID". 200k Omicron infections per day in UK. Shocking. A year on from the first vaccines.
This time last year – seems familiar: UK in the grip of a more transmissible mutation, runaway cases, first vaccines in the US.
https://www.theguardian.com/world/series/coronavirus-live